Someone at Giant had some foresight when they founded the company in 1972, today in Merkabici we have a special article where we present a Giant bicycles overview.
For many decades, Giant has been devoted to bicycles and cycling. At Giant, the two-wheeler is more than just a machine – it's an integral component of society, a friend, and a way to explore the boundaries of your world. 
At Giant they probably didn't know that it would eventually achieve the cycling equivalent of world domination well above brands that have been cycling longer, but the brand certainly lives up to its name now, Giant which means 'giant'.
Giant is generally accepted as the largest bicycle manufacturer in the world. It has factories in its home region, Taiwan, as well as China and the Netherlands, and specialty stores around the world.
In its early days, Giant was the manufacturer of most of the bikes sold under the 'Schwinn' name, at a time accounting for more than two-thirds of the brand's models. When that relationship ended in 1987, Giant decided to make bikes under its own name.
The Taiwanese company was successful, and in 2020 Giant is a global company: No matter where you are, you are never far from a retail store with their bikes.
All Giant frames are designed to the highest standards, and the brand manufactures its own carbon, rather than buying a molding compound like many other brands do. The brand also makes its own components, from helmets and shoes to wheels and GPS computers. If you want to know which are the best Giant bikes, keep reading.
Giant bicycles overview. The best Giant bicycles.
Many of the best high-end Giant bikes feature Giant's own power meter, the Giant Power Pro , fitted as standard. This power meter uses a magnetic USB recharging system and promises +/- 2 percent accuracy. But keep reading that our selection of the best Giant bikes is just getting started.
All of Giant's frames are designed in-house, and the brand makes its own carbon, as opposed to buying in pre-preg composite to mould. The brand also manufactures its own components and equipment, ranging from helmets and shoes to wheels and GPS computers.
Giant produce a wide range of bike families designed around different styles of riding. Unlike other brands, each of these is then split into models: Advanced, Advanced Pro, Advanced Pro Disc, and SL. These models are each available at assorted different price points based upon components such as the groupset, wheels and handlebars.
Propel Advanced SL Disc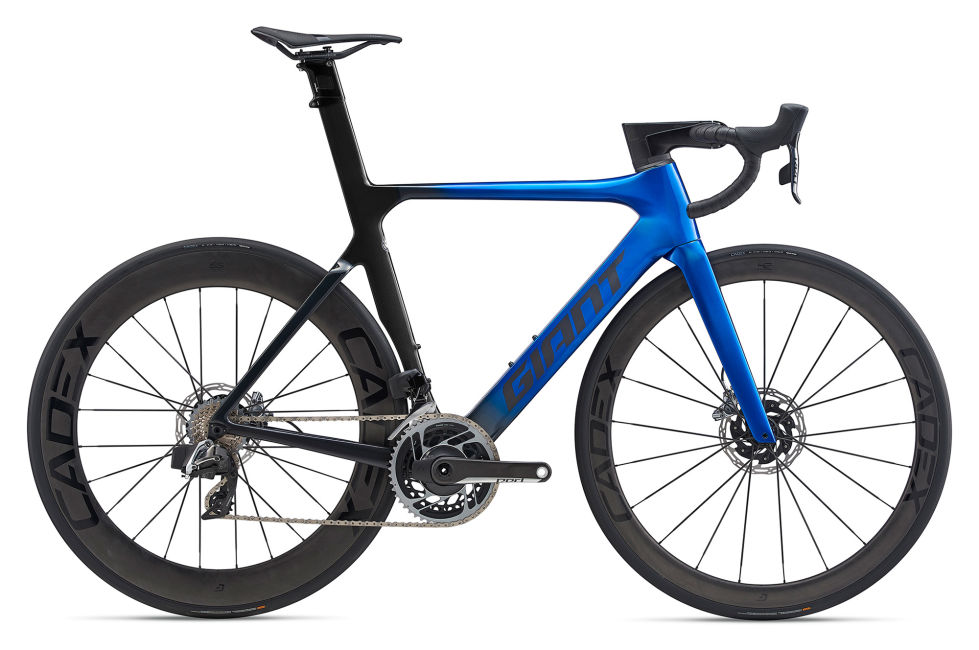 Price: € 3,099 – € 10,499
The new Propel Advanced SL Disc has a host of strengths, one of the most obvious being that Giant has managed to reduce weight while keeping frame and fork stiffness extremely high.
Developed and tested by some of the fastest sprinters in the international CCC Team, the Propel Advanced SL Disc frame offers top speed thanks to its integrated aerodynamic performance.
Engineered according to Giant AeroSystem Shaping technology , which optimizes the shape and angle of each tube with a new 'truncated ellipse' shape to reduce drag to a minimum, the Advanced SL T-800 grade carbon frame is nonetheless ultra rigid and super light.
We often talk about the importance of exaggerating the weight of the bike, but all things being equal, a lightweight bike is more responsive – it accelerates faster and faster on hills. These are key features of the Propel Advanced SL Disc but what stands out the most is the aerodynamics it offers, without a doubt one of the best Giant bikes.
Road-E + 1 PRO 25KM/H
While some e-road bikes skimp on battery and motor power to offer a more integrated look and lighter weight, the Giant Road E + 1 Pro goes in the opposite direction.
With a huge battery and a Yamaha SyncDrive Pro motor connected to the ALUXX SL frameset, Giant has updated the system with its own firmware for better tracking at higher cadence – the brand says the multiplier-based motor can keep up with a cadence of up to 170 rpm.
Giant's electric road bike features a 375Wh battery, which when combined with the SyncDrive Pro motor, can deliver up to 115km of assistance. There are five levels of assistance available, the engine can generate up to 80 Nm of torque, and the levels of assistance can be customized via the Giant's Ride control app .
The rest of the bike is equipped with a Shimano Ultegra drivetrain, with hydraulic disc brakes and 160mm rotors to stop the bike at whatever speed you go.
As with all Giant bikes, the Road E + 1 Pro comes ready to go, tubeless, complete with rim strips, valves, and sealant.
Price: € 3,999
Defy Advanced Pro 1 Di2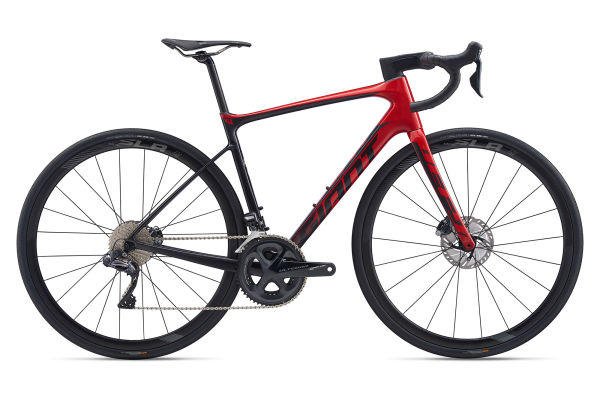 The Giant Defy is the representative of the large fund segment of the Taiwanese firm or resistance as it is called in its catalog and that provides a much more affordable option .
The Giant Defy Advanced Pro 1 Di2 2020 is one of those machines for endurance competitions or for very long runs. It comes with all the technologies built in to provide pure comfort with every pedal stroke.
It features the Advanced T-700 carbon frame and fork , full Shimano Ultegra Di2 mount , carbon wheels, D-Fuse technology seatpost and other Giant components.
On the other hand, if our budget is more contained but we still want to continue enjoying the virtues of this Defy, the Asian firm offers us two other assemblies with the brand's third level of carbon.
One with mechanical Ultegra and PR-2 aluminum wheels for € 2,499 and an entry model equipped with Shimano 105 with which you can enjoy the comfort and versatility of this bike for € 1,999.
Price: € 4,899
Trinity Advanced Pro 1 Force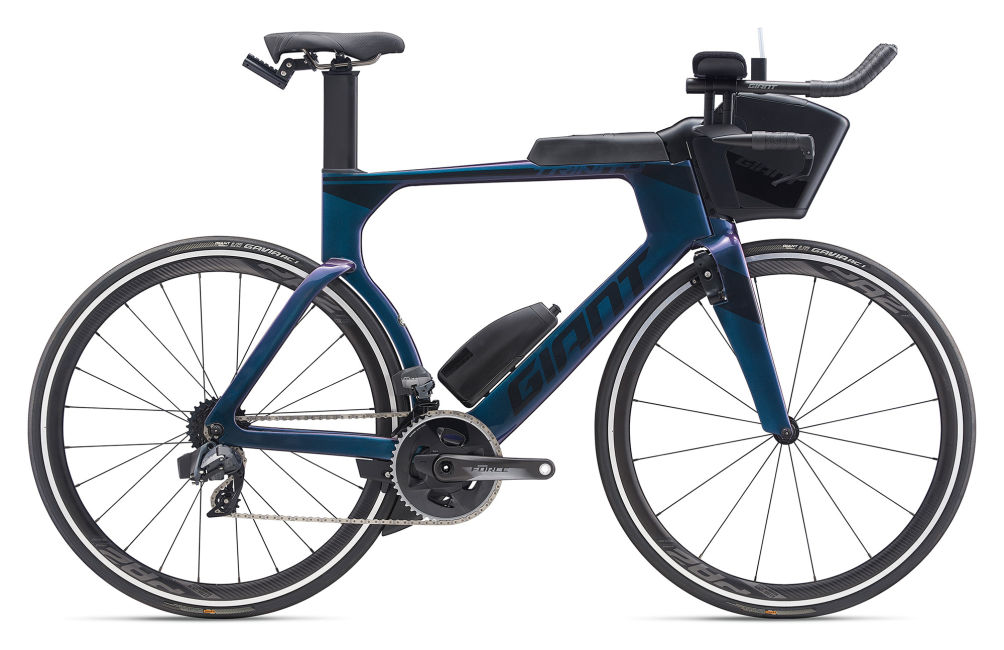 Developed using computational fluid dynamics and dynamic wind tunnel testing, the Trinity Advanced Pro 1 offers a proven aerodynamic advantage.
It is hand built with the best advanced grade compound and precision engineered using Giant AeroSystem Shaping technology . That's why it cuts through the wind better than any other bike in its class. 
Designed for pure triathlon and time trial performance, this bike offers a comfortable sitting position during long workouts and competitions.
Its unique AeroVault system includes a hydration system built into the front, a storage box in the top tube and a water bottle in the down tube that work together to improve aerodynamic performance on the road.
Of course this model is not UCI Legal but the hydration system and storage box can be removed to make it legal.
Totally aerodynamic, incredibly fast. Designed for professional triathletes and world championship participants, this aerodynamic machine is one of a kind and in our opinion the favorite in our selection of the best Giant bikes.
Price: € 5,499
Expressway 2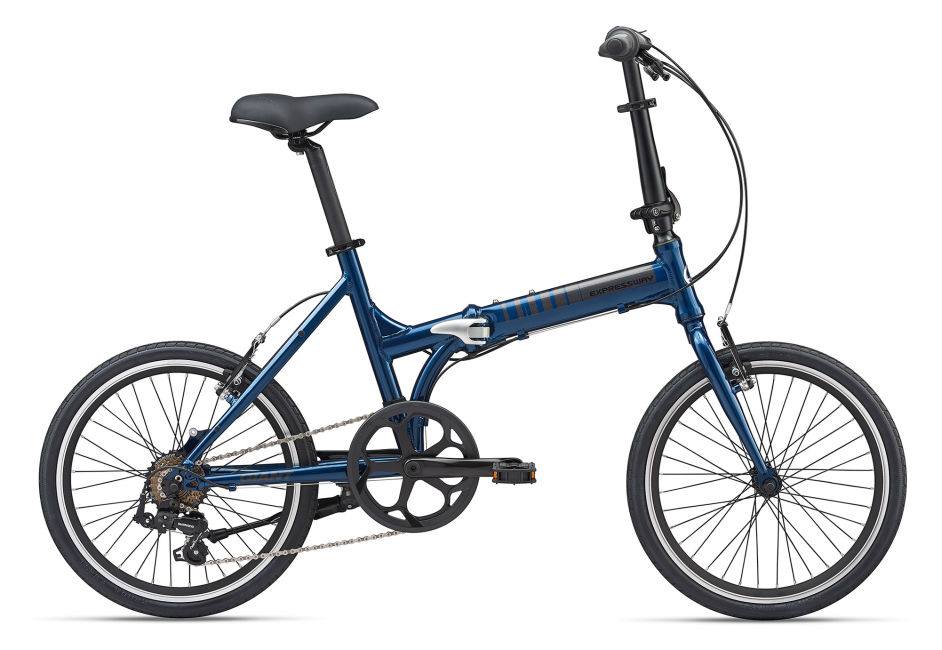 The Giant Expressway 2 folding bike has a frame made from Giant's patented ALUXX-Grade aluminum.
Its 20-inch wheels are small enough and a lightweight ALUXX frame that can be easily folded in seconds, the Expressway 2 is a great option for urban cyclists.
Designed with a low height for a comfortable position. Added features include a chain guard to keep grease off clothing and is compatible with a load carrying bracket system.
Fork: This folding bike has a rigid, high-strength chrome-plated steel fork.
Transmission: The Expressway 2 comes with a Shimano Tourney RD-FT30 7-speed derailleur that is connected to a Shimano Tourney Twist Shifter.
Braking: The folding bike is equipped with a pair of responsive and powerful direct-drive V-brakes that are connected to Comfort alloy brake levers.
Tires : The Giant Expressway 2 comes with a pair of 20 "x 1.5" Kenda Kwest tires.
Other features: Easy folding frame, folding pedals, carry bag, kickstand, adjustable handlebar and a Giant Comfort saddle.
Colors: The bike is available in a choice of two colors: black and blue.
With a lightweight folding alloy frame, 7-speed transmission, responsive brakes, and well-treated tires, the Giant Expressway 2 is ideal for someone looking for a fun way to travel.
Price: € 499
TCX ADVANCED PRO 1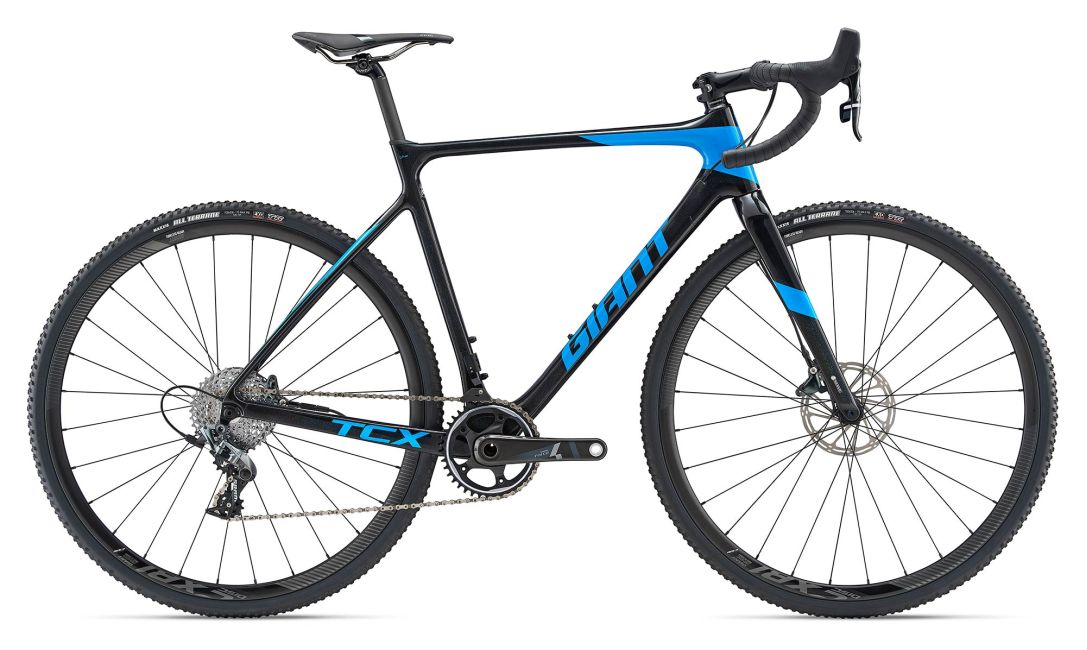 When you're launching an attack, chasing the rider just a few feet ahead, maneuvering through tricky and highly technical turns, or terrible cyclo-cross conditions, every advantage counts.
Professionals settle for nothing less than perfection, and this is the machine that meets their demands. The TCX Advanced Pro 1 features an advanced grade superlight frame that is handcrafted with race-proven geometry and asymmetrical chainstays for optimal power transfer.
The innovative D-Fuse composite seatpost , pioneered for the first time for this bike, adds compliance without adding weight, so you can pedal smoothly no matter how difficult the ride. Other innovations include a lightweight composite wheel system and factory tubeless tires, flat mount disc brakes, and a 12mm front and rear thru-axle for total control when cornering, winning the sprint or climbing in all non-conditions it will be a problem with one of the best Giant bikes .
The OverDrive 2 head tube system offers pinpoint directional precision. It has other innovations such as flat-mount disc brakes .
Price: € 3,499
REVOLT ADVANCED 0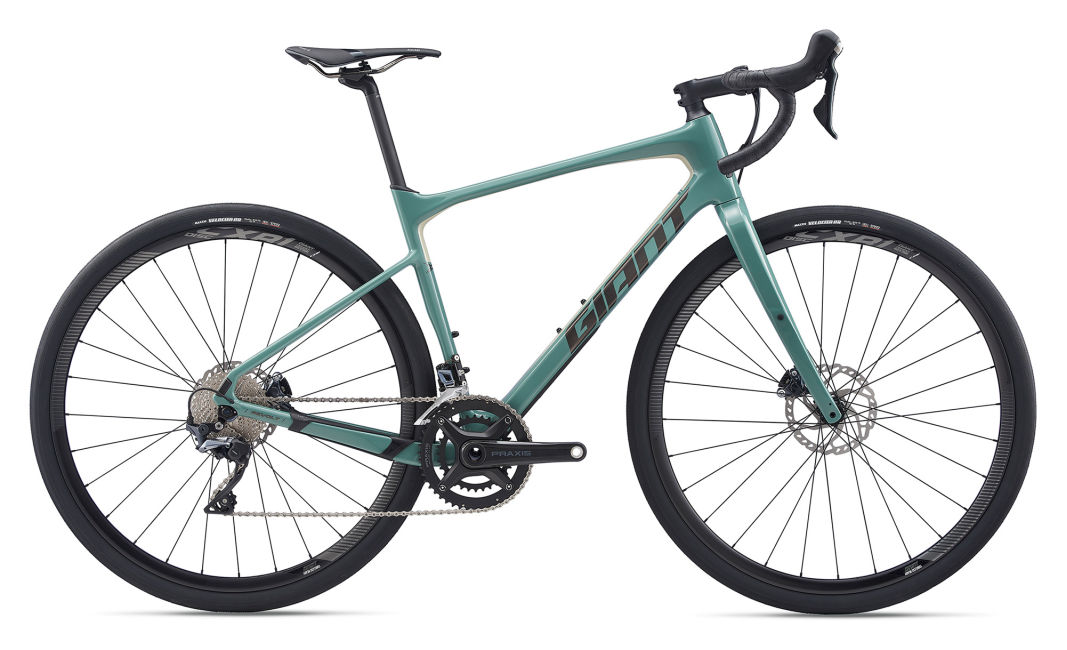 Giant's Revolt launched in late 2018 and is a clever culmination of the best parts of the TCX cyclocross machine discussed above and the Defy endurance roadster (named this way on its website).
Almost anything goes on gravel roads and races. It's a mixed challenge of speed, stamina and skill. This Giant high-performance all-terrain bike can handle it all. It's smooth and efficient, your new best friend for pushing your limits on roads, gravel, and dirt.
The frame is built using Giant's advanced carbon technology in a process it calls ' modified monocoque construction ', which means the frame is formed in one piece.
The frame shape mimics the Defy's super dropped rear frame design. Giant's super-sloped compact top tube setup evolved, gradually tapering from the deep head tube joint to the seat tube triangle joint.
On asphalt, the tire's relatively stiff centerline allows for rapid road progress, especially with 50 psi on the tires.
That's also a pressure that is low enough to puncture off-road. But, having no chambers, you can experiment with much lower pressures. The compact design of the Revolt Advanced 0 is extremely maneuverable when riding on MTB and singletrack style trails.
Price: € 3,599
GLORY 1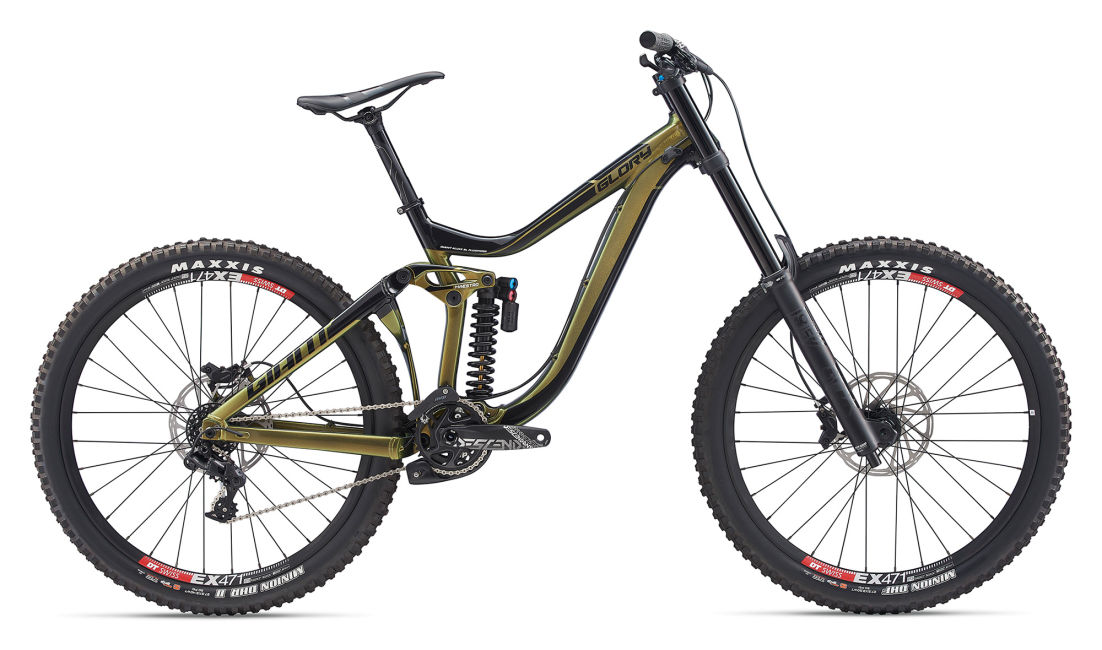 Down Hill terrain is fast. You need the confidence and control to make decisions in seconds and remain confident and focused on your game.
With a fully active 203mm travel Master suspension and a Trunnion anchor damper, the Glory 27.5 has been tested by some of the best DH riders in the world, having done their tests in the field.
Little to say about the 2020 downhill model, the Giant Glory remains exactly the same as in 2019, changing the frame color.
The development and fine-tuning of the 63-degree steering angle and the longer wheelbase have been the fruit of close collaboration with the Giant Factory Off-Road team riders, to be the best on the most popular DH circuits. technicians and extremes of the world.
Price: € 4,599
ANTHEM ADVANCED PRO 29 0 EAGLE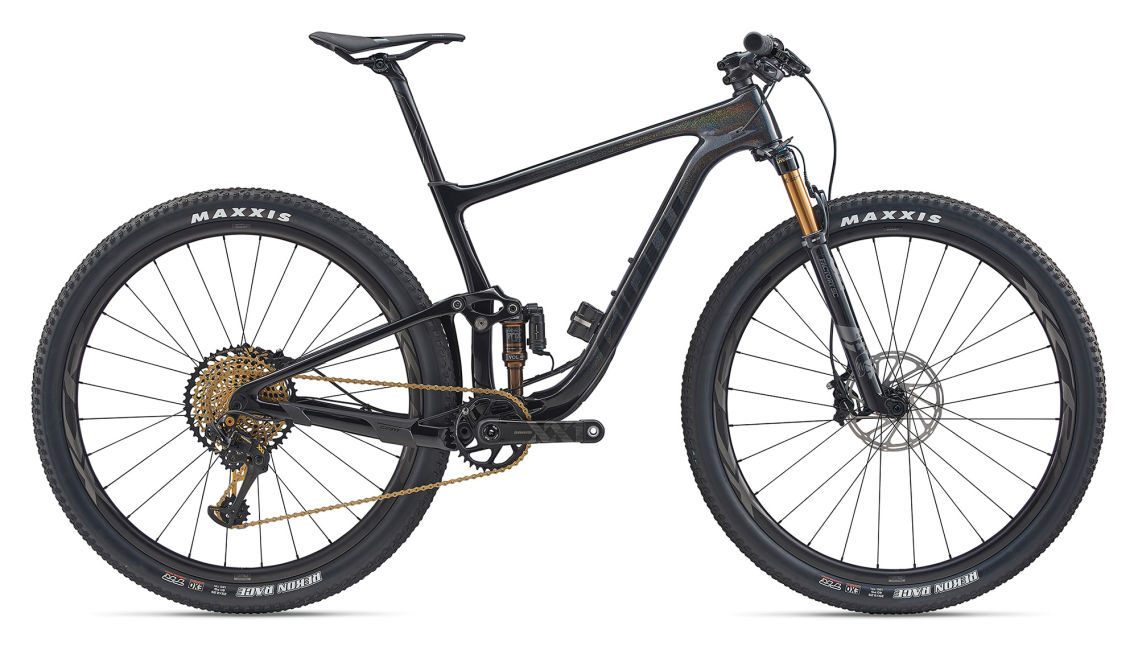 Having control of the manufacturing of carbon fiber, while producing for some of the biggest brands in the market, allows Giant to offer products as elaborate as this Anthem Advanced Pro .
It is only by seeing how these paintings are produced that you realize the amount of technology and hours that are behind such a painting.
Handcrafted with a lightweight Advanced T-700 carbon frame on both the front triangle and swingarm, this 29-inch racing car boasts 90mm of rear suspension travel and 100mm of fork travel.
The proven Maestro suspension includes a Trunnion damper mount that produces a lower level of lever for greater pedaling and braking efficiency, and shorter chainstays that improve climbing abilities and overall agility.
From our point of view, the ANTHEM ADVANCED PRO 29 0 EAGLE is the best bike for MTB.
Price: € 8,999
XTC JR DISC 24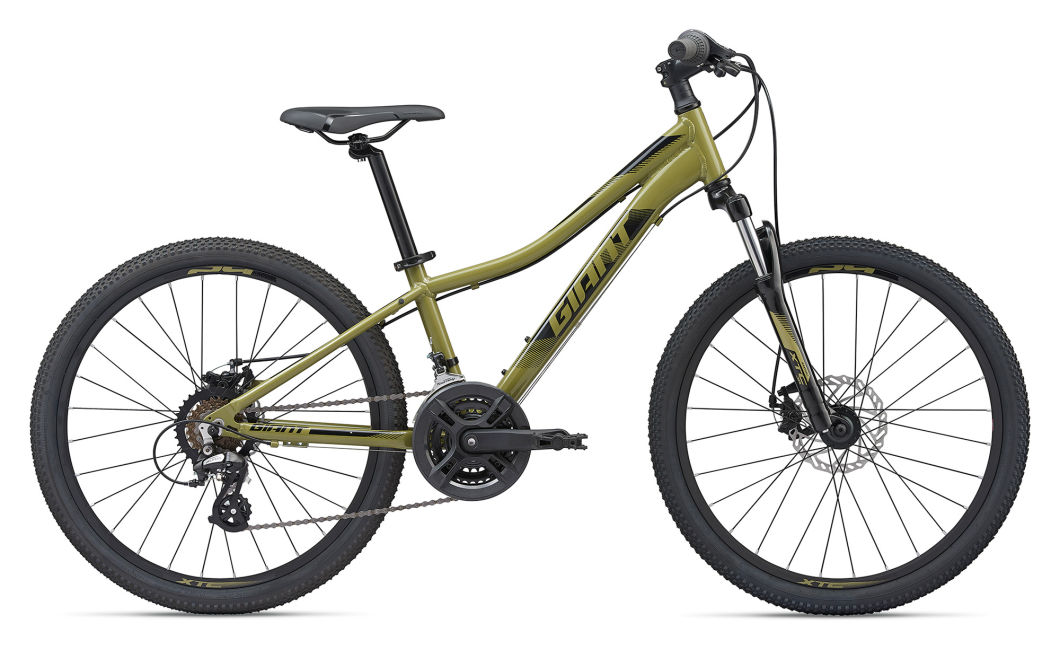 Great off-road performance in a small package. With an aluminum frame, front suspension and disc brakes, they're ready to conquer the climbs and have fun on the descents.
The disc brake version of the XtC Jr. provides additional control for trails and more advanced conditions for the little ones in the house.
With its lightweight aluminum frame, front suspension, and fast-rolling 24-inch wheels, it's ready to roll on off-road adventures.
The ALUXX grade aluminum frame provides a lightweight chassis specially designed for young off-road riders.
24-inch wheels, front suspension, and disc brakes give future talents the performance they need for true off-road driving.
Specific performance components help young riders improve their off-road skills.
Price: € 359
Which do you think would be the winner of our selection of the best Giant bikes? Leave your answer in the comments.
By: Berthy Perez Lases