In the following article we are going to talk about the importance of bicycle adjustment and why it is essential in preventing injuries in cycling.
It is commonly known that the regular use of the bicycle has direct benefits on people who lead healthier lives, this does not mean that cyclists are less vulnerable to injury than the general population.
Cycling practiced on a regular basis has been shown to be the most effective activity that a person can do to improve their health and increase longevity, including for people active in sport and other physical activities (Andersen, Schnohr, Schroll, & Hein, 2000).
Cyclists usually have a physical condition level equivalent to 10 years younger (Tuxworth, Nevill, White, & Jenkins, 1986), however overuse, alteration in position and type of bicycle are reason for medical consultation for Cervico-dorsal problems and knee extensor apparatus. Are we understanding the importance of a proper bicycle adjustment?
In the medical-sports consultation, injuries are seen that require an unusual therapeutic approach, being a source of frustration for the injured cyclist and for the therapist, since in many cases it evolves with slow healing.
It might interest you: What is a chiropractic adjustment?
These are produced mainly by two aspects:
Errors in planning and scheduling training
Due to the repeated sporting gesture and based on morphological alterations or an incorrect bike adjustment.
Diagnosis includes pain assessment, physical examination, constitutional factors and imaging studies, in addition to the bicycle and footwear examination are highly recommended.
These pathologies typical of cycling include rest, analgesics, anti-inflammatories, ice, muscle relaxants, physiotherapeutic and rehabilitative measures, with the inconveniences that this leads to in our lives.
Its prevention involves modifying the sporting gesture and complying with basic rules for a correct position on the bicycle.
We recommend you read: What is the pájara, why does it enter us and how to avoid it
In this sense and from the point of view of the sporting gesture, the important thing is to know the pathologies derived from an inadequate adjustment of the bicycle and to correctly calculate the basic measures of the bicycle for a cyclist in order to prevent more frequent injuries, which we can Classify according to Gómez-Puerto, JR, et al, (2008) as follows:
Pathologies derived from an inadequate adjustment of the bicycle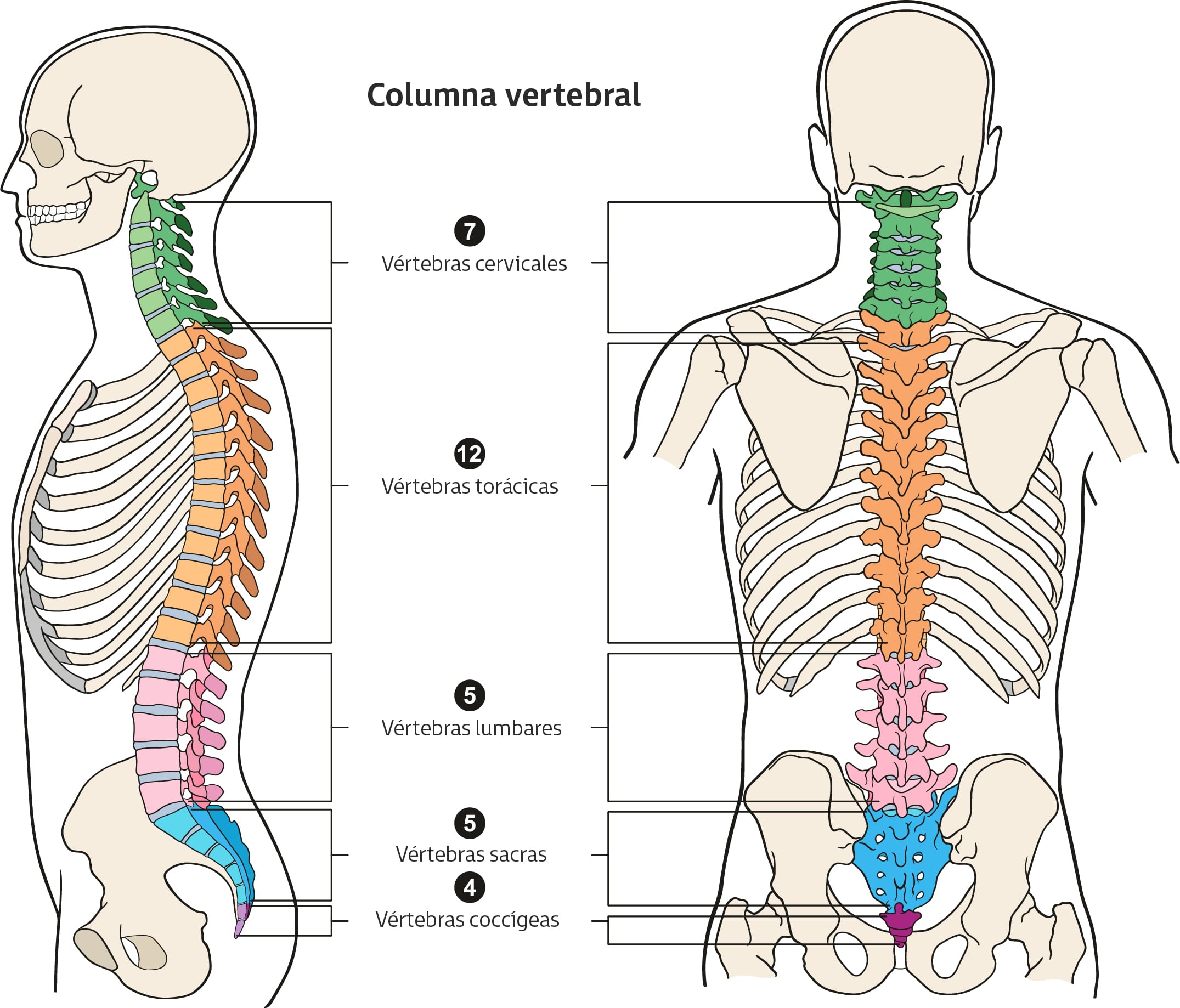 Cervico-Dorsal Region

According to Olivé (2000), pain in this area called cervical pain and back pain is caused by technical defects or errors involved in sporting gestures.
Possible causes:

Difference between the heights of the brake levers.
Saddle too high.
Posture too hunched due to having a short horizontal tube, with a straight back position and extended arms.
Defective regulation of the height and distance of the cimbra-handlebar, forcing the rider to hyperextend the head.
Scheuermann's epiphysitis, or bone maturation pathology, affects people who grow rapidly.

Cervico-sacral region

In half of the cases the cause may be directly related to a defective sporting gesture of the man-machine binomial, said causes according to De Mondenard J, P (1994) are:
Lower limb dysmetria.
Saddle peak facing upwards.
Saddle too high and frame too big.
Saddle too tilted down or up.
This pathology is frequent and is based on an inadequate biomechanics such as a too horizontal posture of the spine.
Upper limb, hands and fingers

Peripheral nerve compression in the carpal canals (median and ulnar nerves) is closely related to the rider's posture and incorrect bike fit.
Paresthesia in the 4th and 5th fingers due to prolonged support on the pisiform bone and hyperextension of the carpal joint.
Paresthesias in the 1st, 2nd and 3rd fingers of the hand due to flat handlebars.

The measures and forms of prevention are directed towards:

Aspects of modification in the sporting gesture.
Corrective measures for postural errors capable of altering the sporting gesture and causing injuries.
Bike fit
Adaptation of the bicycle measurements to the cyclist's height and body measurements. The professional of Physical Activity and sports as well as the sports doctor must advise the athlete.
Adequate muscle exercises without imbalances.
Maintain good flexibility.
Symmetry of the lower limbs.
Training program duly planned by professionals in physical activity and sports.
This review serves to provide us with information on the most common causes of this type of injury, due to muscular deficiencies and technical errors that intervene in the sporting gesture and the adjustment of the bicycle.
To prevent these problems, postural errors must be modified and corrected, adjusting the bicycle appropriate to the cyclist's morphology and, above all, enhancing the training of the MMII, MMSS and the paravertebral muscles, in order to obtain the best benefits, achieve efficiency, performance and pleasure from sports.
Bibliography

Andersen, L. B., Schnohr, P., Schroll, M., & Hein, H. O. (2000). All-Cause Mortality Associated With Physical Activity During Leisure Time, Work, Sports, and Cycling to Work. Archives of Internal Medicine, 160 (11), 1621. doi: 10.1001 / archinte.160.11.1621
Cherington M. Hazards of bicycling: from handlebars to lightning. Semin Neurol. 2000; 20 (2): 247-53
Gómez-Puerto, J. R., Da Silva-Grigoletto, M. E., Viana-Montaner, B. H., Vaamonde, D. & Alvero-Cruz, J. R. (2008) .. SPORTS MEDICINE. Saludmed.com. Retrieved from http://www.saludmed.com/lesiondeportes/contente/Med_Deporte_y_Terapeutica_Atletica.html
From Mondenard JP. Cyclist injuries: from the symptom to the mechanical cause. 1st ed. Barcelona: Ciba-Geigy, S.A .; 1994
Olivé R. Pathology in Sports Medicine. 1st ed. Badalona (Barcelona): Laboratorios Menrini, S.A .; 2000.
Tuxworth, W., Nevill, a M., White, C., & Jenkins, C. (1986). Health, fitness, physical activity, and morbidity of middle aged male factory workers. I. Occupational and Environmental Medicine, 43 (11), 733–753. doi: 10.1136 / oem.43.11.733
Weiss F.D. Clinical syndromes associated with bicycle seats. Clin Spots Med. 1994; 13 (1): 175-86